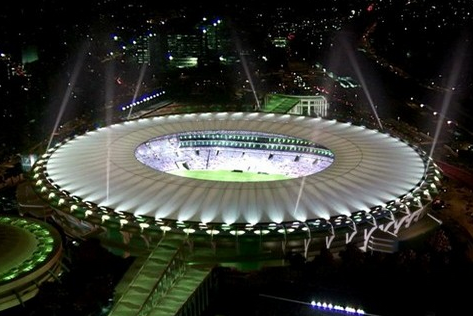 Midea Carrier in Brazil, a joint venture entity comprising of Midea Group—the number one global brand in air treatment as well as manufacturer and wholesaler of broad range of appliances—and Carrier—founded by the inventor, Willis Carrier—had a winning sweep of the bids in providing climate control solutions to all of Brazil's 12 new sports arenas and auxiliary facilities. Midea equips all of these venues with a combination of variable refrigerant flow (VRF) products and large tonnage Chiller units.
This overwhelming win over all the bids demonstrates Midea's strengths and leadership in climate control solutions. Midea will be the sole provider of Heating Ventilations Air Conditioning (HVAC) for Brazil's international sport stadium facilities and marks a significant milestone in the joint venture's operations in Brazil.
Midea only has the audience comfort in mind, as they install V5X series VRF units in all of these facilities to ensure proper ventilation at a consistent temperature range throughout the 2016 Sports Games. The V5X series VRF units boasts a high operational efficiency with low energy consumption, thanks to its advances direct current (DC) inverter technology precision refrigerant control, energy-saving heat transfer, and powerful low-temperature heating technologies.
Aside from Midea's V5X series VRF, they will also install the Rooftop Weathermaker 50TC which is capable of generating more comfort, efficiency, and flexibility for various applications. It also has compact dimensions that reduce the space it takes on the floor area. They will also have Chiller AquaSnap 30RBA that combines high technology with environmental solutions. In addition to its high efficiency, the 30RBA models are compact and have low noise.
This only shows Midea's expertise in managing climate control for the largest sporting spaces. Now that they have won all the bids for the new sports facilities, it only reaffirms Midea's role in the FIFA World Cup 2014, which was also held in Brazil, where their solutions were installed in 9 out of 12 arenas built for the competition. This showcases Midea's strength and commitment to quality, winning the respect and loyalty of its international customers.
"We share this overwhelming victory for the brand," Concepcion Midea General Manager, Phillip Trapaga, "though if Midea here in the Philippines is still at its earlier stages, we aspire to serve Filipinos in the same fashion when the time comes. Our country is beginning to enjoy the fruits of an economy that is slowly picking itself up and this only leads to a brighter future. And in that future, expect Midea to be there, still providing the best solutions not only in the households, but also in bigger venues like stadiums and possibly in other industries where our solutions are needed."
For more information on Midea, check out their website at http://midea.com.ph/ and Facebook pagehttps://www.facebook.com/MideaPhilippines.