What can be sweeter to the ears than freebies, discounts and sale? It's definitely a joy to behold as OPPO brings another nationwide promo to all Ofans!
This July, OPPO Joy Plus can now be yours for just P3,990, down from its original price of P4,990, for the whole month of July. The Joy Plus is a great entry-level unit that builds on the previous Joy model. But don't let its delicate appearance fool you, as this modest-looking phone is loaded with quality features: a 4-inch screen, 3 megapixel camera, dual SIM slots, 4GB of internal storage, 1.3 GHz quad-core CPU, and 1GB of RAM. The phone also comes with the ColorOS 2.0 as well as the critically acclaimed Pure Image 2.0+ software, which allows you use of Double Exposure.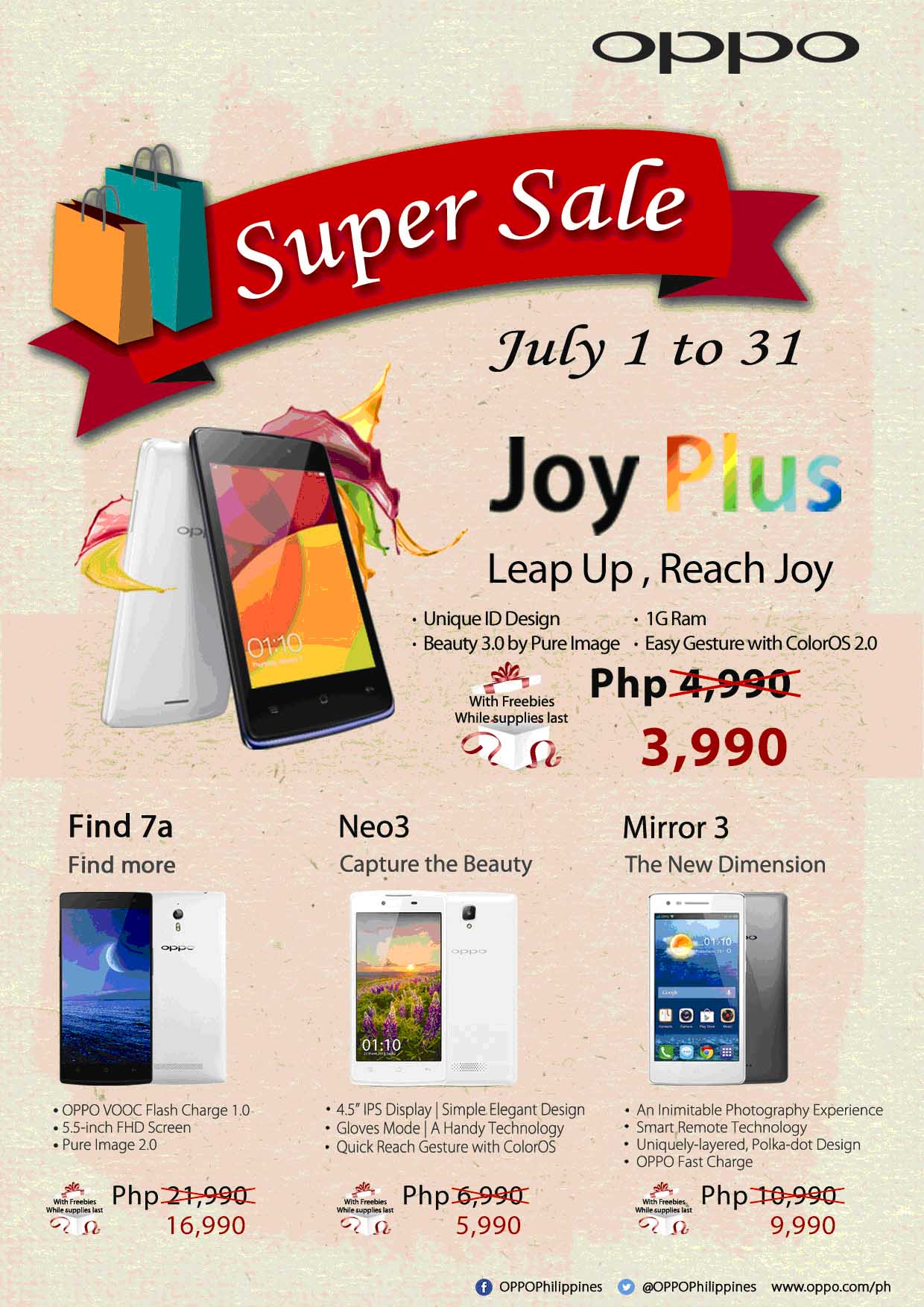 With its affordable price, the phone delivers both value and dependability in a compact package. Available in white and matte-gray, being in touch with everyone has never been easier.
Aside from the Joy Plus, OPPO is also offering some of our earlier models at discounted prices. Included in this special promo is the Find 7a which will cost a whopping P5,000 less from its original SRP at P16,990.
The Find 7a will definitely be a good buy for that price considering the heavy features this former flagship carries. The Find 7a boasts a 2.3 GHz Qualcomm Snapdragon 801 quad-core processor, 5.5" display, 2 GB RAM, VOOC Rapid Charge, 13 MP rear camera and a 5 MP front camera.
The Mirror 3 is also up for grabs for just P9,990. The unit runs on 1.2 GHz quad-core processor, has 1 GB RAM, and is compatible with 4G LTE. It also features the Smart remote technology 2.0 and fast charging.
Last but not the least, OPPO's offering the Neo 3 for just P5,990. It runs on 1.3 GHz dual-core processor, 1 GB RAM, features the gesture panel, and is OTG compatible. This unit's been one of our hot sellers in the previous year.
On top of all these exciting discounts, OPPO is also offering premium gifts to those who will avail of their promo. This is applicable to any of the units on sale. Say yes to OPPO this July and start experiencing Joy on your hand.