Mass Media touches virtually every aspect of our daily lives. It plays a significant role in shaping public perceptions on a variety of important issues, both through the information that is dispensed through them, and through the interpretations they place upon this information. When journalists or talk show hosts are insightful and judicious in their reporting, citizens can play a more informed role in the many issues and debates that shapes their communities.
For the second year, the People Management Association of the Philippine (PMAP) presents the Makatao Awards for Media Excellence to honor members of the mass media (TV, radio and print) for their outstanding works and contributions that enhance public understanding of the role and impact of good people management in both the public and private sector in the country.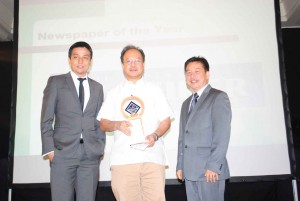 Here are of winners for the 2nd PMAP Makatao Awards recognized in a ceremony held at Hotel Intercontinental, Makati City on November 28, 2012.
ORGANIZATIONS:
GMA 7 – TV Station of the Year
DZMM 630 – Radio Station of the Year
Philippine Daily Inquirer – Newspaper of the Year
TELEVISION:
Jessica Soho – Best Public Affairs TV Program Host
Kapuso Mo Jessica Soho – Best Public Affairs TV Program
Mel Tiangco – Best TV Female Newscaster
Ted Failon – Best TV Male Newscaster
24 Oras – Best TV News Program
RADIO:
Anthony Taberna – Best Public Affairs Radio Program Host
Dos Por Dos – Best Public Affairs Radio Program
Noli de Castro – Best Radio Newscaster
Radyo Patrol  Balita – Best Radio News Program
NEWSPAPER:
Ernie O. Cecilia – Best Columnist
OTHER AWARDS:
DZRH – Special Citation
Trabaho Lang – Special Citation
Manila Bulletin – Special Citation
PMAP is the premier organization of people manager and HR practitioners in the country and has more than 1.800 corporate members and individual members and 22 chapters nationwide. For news and updates, you may visit www.pmap.org.ph or like https://www.facebook.com/PMAP1956 on Facebook.