Japan is a dream destination to many people around the world.
Aside from the very interesting and colourful culture of the Land of the Rising Sun, the country is one of the most popular travel destinations in the world. Mount Fuji, the Great Buddah of Kamakura and Tokyo Imperial Palace are just some of the many amazing places in Japan that are in the must-see list of both local and foreign visitors.
Aside from this, Japan has a unique blend of traditional and modern, with many temples and buildings from the past co-existing with modern achievements in architecture and technology. It's always a sure thing that anyone can make a long list of anything about the country at any given time. Immediately, upon hearing Japan, our mind will be populated with images of amazing stuff like anime, manga, sumo wrestling, the bullet train, origami, cherry blossoms, and samurai.
And were not yet even talking Japanese dishes which are very popular anywhere in the world because of their distinctive taste.  In the Philippines, Japanese restaurants are all-over the nation and perhaps the most popular and well-received are those who offer ramen.
Along the busy Shaw Boulevard is an emerging Japanese restaurant called Ramen Daisho that offers a ramen recipe bought directly straight from Japanese Master Chef Giantsu Yasuhiko who is known to have created the recipe of Ukokkei Ramen Ron. For the curious souls, Ukokkei is the "more expensive" chicken meat of the Japanese said to be is highly nutritious and more delicious compared with other chicken meat.
Here are some of the many offerings that Ramen Daisho caters to the distinctive taste of fans of Japanese food.
There is an ongoing lunch promo that is worth every cent spent. Imagine for the price of only P375, you'll be able to order a ramen of your choice, a gyoza and salad and half serving of either beef curry or chahan.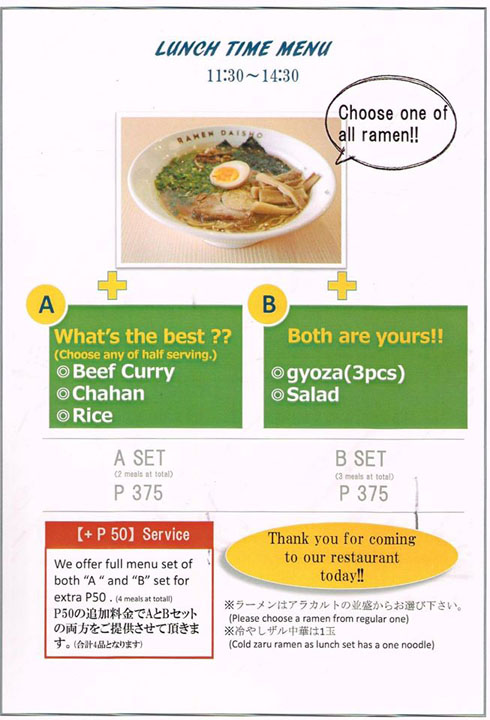 Indeed, Ramen Daisho is one of the best options to experience Japanese goodness when you are here in the Philippines with every plate. Visit the restaurant at Unit 2, Sunshine Square, Liberty Center, 312 Shaw Blvd., Mandaluyong City. It is open daily from 11:30am – 2:30pm and from 5:30pm to 10:00pm. For inquiries, you call (02) 774 0036 or visit their FB fanpage www.facebook.com/ramen.daisho.ph.